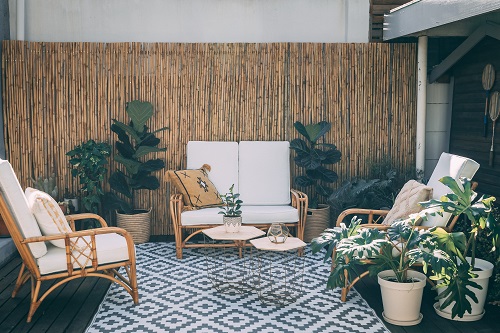 No matter the size or shape of your yard or patio, it's helpful to know the basics of using outdoor decor. You can decorate for specific occasions or change the entire aesthetic of your space in myriad ways - many without breaking the bank. Here are some common questions about decorating outdoors and tips to help you get started:
How do you decorate an outdoor area?
When decorating an outdoor area, try starting with lighting. Replace any existing light fixtures with more stylish options, and add more accent lighting to create ambiance. Hang a chic pendant light from a covered porch, or add magic with twinkling string lights.
Once you have your lighting, focus on defining the space. Combine an outdoor area rug with matching outdoor pillows for a simple outdoor decor formula.
What about outdoor decor on a budget?
Upcycling is a great way to decorate an outdoor living space on a budget. Consider repurposing old furniture pieces to give them new life outside. A fresh coat of paint and some weatherproofing can transform almost anything into patio furniture on a budget.
How do you weatherproof outdoor decorations?
It's important to protect your decorative items from the elements, no matter the time of year. Use a clear polyurethane sealant on wood-based pieces. To prevent wind-related damage, weigh down your outdoor decor by anchoring lightweight pieces to the ground, wall or a heavy object.
Can I temporarily decorate for company or special occasions?
Decorating an outdoor space with seasonal or holiday flair is a fun way to celebrate and show your creative side. When choosing more temporary decorative items, opt for those you can reuse the following year. If you're decorating for a special occasion, make sure to store these special pieces safely for later use.
What about semi-permanent decorations?
You can add a personal touch to your outdoor space without the need to change things constantly. Simple updates like adding new outdoor furniture or refreshing the garden will keep your space feeling stylish and low-maintenance.
Are you ready to get started on your outdoor decor project? Keep these tips in mind to create the perfect vibe for your outdoor living area.